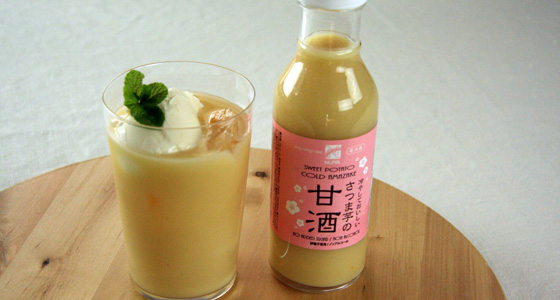 Nijiya Handmade: Sweet Potato Cold Amazake.
Amazake is a traditional sweet beverage in Japan and is made with Malted Rice.
Now it is commonly consumed as a warm drink on Girl's day celebration or cold days in winter;
however, it is said that Amazake has basically consumed as a cold drink to cool body down in
summer.
We are proudly introducing our Amazake which is made with sweet potato. Its sweetness is only
coming from malted rice (the starch is converted to sugar) and of course no sugars are added-
very healthy and naturally tasty. Furthermore, it is non-alcohol beverage so all generations can
enjoy it.
The flavor of Sweet Potato Amazake is superior when consuming as a cold beverage.
Please enjoy as it is, diluted with water, soda, milk, or soy milk, adding ginger or yogurt, or
Shochu if you prefer to drink alcohol.
ニジヤ手作り! 冷やしておいしい・さつま芋の甘酒
甘酒は米と麹で作られる日本の伝統的な甘味飲料です。
現代では雛祭りのお祝いに温かい甘酒を飲むようなイメージがありますが、かつては夏
場の暑気払いに冷やしたものを飲む習慣があったそうです。
ニジヤでは、さつま芋を使ったヘルシーな甘酒をつくりました。甘酒は米と麹を発酵さ
せ、デンプンを糖化することで甘みが出るので、砂糖は使用せず、さつま芋と米麹が
作り出す本来の甘みだけでナチュラルにおいしく仕上げました。もちろんノンアルコ
ール。そのままでも、水や炭酸、牛乳や豆乳で割っても、また、生姜やヨーグルトを加
えても。お酒を召し上がる方は焼酎割りなどもおすすめです。
春、夏に向けて〝冷やしておいしい・さつま芋の甘酒〟をお召し上がりください。