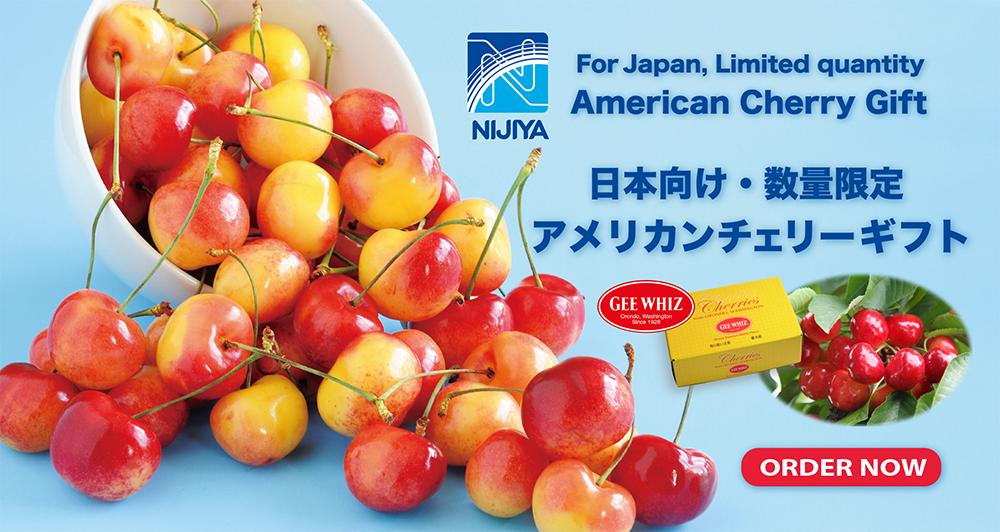 American Cherry Gift to Japan
Order now!

The Cherry Gift season has been here to send to your loved ones in Japan!
Have you placed any orders yet? Please do not miss this special chance to send love and appreciation to someone in Japan. We will be looking forward to your order until last minute.

Order due date:
Auvil Farm Cherries – CR-1, CR-2, CR-3, CD-1, CD-2, CD-3, CS-1, CS-2
Order by: June 30th (Fri)
Expected delivery: around the mid of July to the end of July
Select American Cherries – PD-1, PD-2, PD-3, PS-1, PS-2
Order by: June 18th (Sun)
Expected delivery: around the end of June to the beginning of July

We are always more than happy to support your purchase through the whole process.

Please contact us at any time if you have any questions. You can reach us at our customer support via email or over the phone. Please also visit our physical stores as you see fit.



日本送り用アメリカンチェリーギフト
ご注文はお済みですか?

今年もチェリー農園ではたわわにチェリーが色づき、いよいよ収穫を待ちわびる時期となってまいりました。
今年のご注文はもうお済みでしょうか?
まだご注文を決めかねていたり、うっかり忘れてしまっていたお客様、まだ間に合います!
オーダー締め切り日時:
オービル農園産チェリー CR-1, CR-2, CR-3, CD-1, CD-2, CD-3, CS-1, CS-2
お申込み締切り: 6月30日(金)まで
予定配達期間: 7月中旬~下旬頃
厳選アメリカンチェリー PD-1,PD-2,PD-3,PS-1,PS-2
お申込み締切り: 6月18日(日)まで
予定配達期間:6月下旬~7月上旬頃


オーダーに関する質問はお気軽にお問い合わせください。
今年もニジヤのチェリーギフトで、お客様の日本の大切な方たちの笑顔がより一層増えることを願っております。