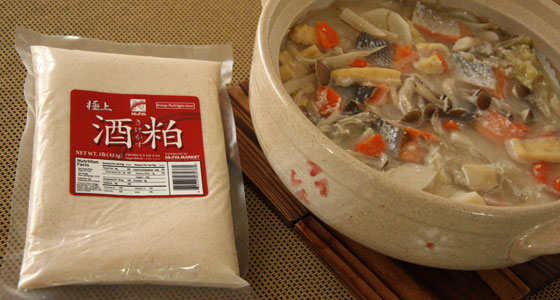 Sake is made ​​on the basis of raw materials rice, rice koji and water.
Fermented soft solid, called "Moromi (mash)", is formed in the brewing process. Sake is the liquid resulted from squeezing "Moromi", and its residue is "Sake-kasu (lees)".
Nijiya's Sake-kasu is more matured and pasted lees called "Neri-kasu". This superb Sake-kasu has more umami and is rich in aroma and taste. It is also fresh and soft so that you can use it easily.
A lot of nutrients from yeast remains in Sake-kasu, including carbhydrates, proteins, fibers, and vitamin B. It is certainly a healthy food. You can use Sake-kasu for daily dishes such as Kasu-jiru, pickles, and desserts.
Because of chilled item, these items are not available online.
日本酒は、米、米麹、水を原料として造られます。その醸造過程で柔らかく発酵した固形物〝もろみ〟を搾った液体が酒で、残ったものが酒粕です。
ニジヤの酒粕は、さらに熟成させた「練り粕」で、旨み成分が多く、味も香りも濃い極上酒粕。フレッシュで柔らかく、使いやすいのも魅力です。
酒粕には酵母に含まれる栄養成分が多く残り、炭水化物やたんぱく質、食物繊維、ビタミンB群などが豊富です。まさに健康食品!粕汁、漬物、デザートなど、毎日のお料理に幅広くご利用下さい。
要冷蔵のため、この3商品はオンラインでは取り扱っておりません。