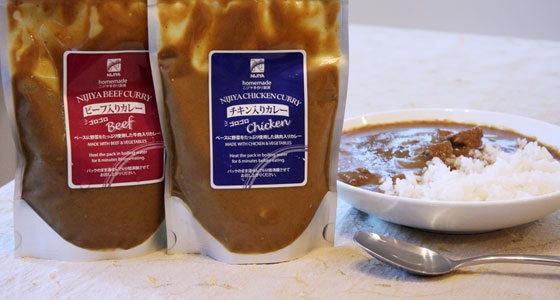 Chicken Curry & Beef Curry with chunk of meats!
New Chicken Curry and Beef Curry are coming with chunky meats.
The bases of soup are made with chicken (for chicken curry) or beef (for beef curry) that are rich in Umami, and cook with plenty of onions, carrots, and celery. All vegetables are melted during slow cooking, so you never miss the nutrients of all vegetables. Now we add chunk of chicken meats for chicken curry and beef for beef curry. Consequently, the curries are more volume and Umami than previous ones.
Preparation is very easy; warm the package with boiling water for six minutes, and serve.
You can enjoy light taste of Chicken Curry or a rich taste of Beef Curry depending on your favor.
Product info: 8oz/$2.99(Chicken), 8oz/$3.49(Beef)
shelf life: 25 days
Keep Refrigerated
* Available at California stores only.
ゴロゴロ肉入りチキンカレーとビーフカレー
ニジヤのオリジナルカレーに、ボリュームたっぷりの肉入りチキンカレーとビーフカレー2種が新登場です。
ニジヤのカレーは、それぞれの肉で取るだしに加え、たっぷりの玉ねぎ、にんじん、セロリを煮溶かして作っています。だから、旨みと栄養がたっぷり!お肉もゴロゴロ入ってボリューム満点になりました。
調理は簡単。パックのまま湯せんで6分沸騰させるだけ。さっぱりとした旨みのチキンカレー、コクのある旨みのビーフカレー、それぞれの味をお手軽にお楽しみいただけます。
8 oz入り
賞味期限:製造日から25日/要冷蔵
通常小売価格:チキン入りカレー $2.99, ビーフ入りカレー $3.49
* ハワイ・ニューヨーク店除く