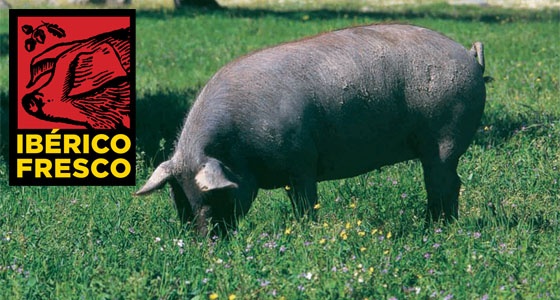 High-End Black Pork "IBERICO Pork" is now available at Nijiya!!
"Iberico Pork" is s super premium pork from Spain and well recognized among gourmet. What's special about this pork? They are pastured without resistance in nature. Each pig is assigned a lot more space than that of regular pigs. In addition, they are 100% acorn-fed. It is all natural without GMO, and hormone drugs. It is not distributed in U.S.A. except for some restaurants.
This time, Nijiya Market has just started carrying Iberico Pork as one of our meat selections. Nijiya Market carries only the highest grade of Iberico Pork (De Bellota). Please try this super premium pork!!
超高級イベリコ豚 販売開始!
"イベリコ豚"は食通の間では有名なスペインの超高級豚です。日本のTV番組等で数多く取り上げられているので名前だけはご存知の方も多いと思います。"イベリコ豚"は大自然の中でのびのびと放牧されており、1頭あたりの飼育面積が他の豚とは比べ物になりません。さらに餌はドングリのみという変り種。もちろん遺伝子組み換えやホルモン等の投与は一切行われていない100%ナチュラルのポークです。
アメリカでは一部のレストランを除き一般では購入不可能でしたが、ついにニジヤマーケットでの販売を開始!特に最高グレードの"デ・ベジョータ"のみを取り扱います。豚を超えた豚。この至高の味わいをぜひご賞味ください。