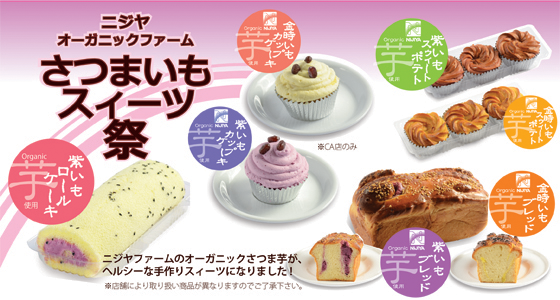 INTRODUCING SWEET POTATO SWEETS&BREADS FROM CAKE KOBO&CHERRY BLOSSOM!
Sweets and Breads made with Organic Kintoki(yellow) & Purple sweet potatoes from Nijiya Organic Farm are coming from Cake Kobo & Cherry Blossom.
Sweet Potato is rich in Vitamin C and Fiber which are help preventing with lifestyle-related disease and maintaining the stomach condition. Furthermore, a chemical, named "Anthocyanin" in purple sweet potato, is known as antioxidant that helps anti-aging.
We are pleased helping better and healthy eating with our delight foods.
Enjoy!
ニジヤ・オーガニックファーム より、さつまいもスイーツ祭
ニジヤのオーガニックファームで収穫したさつまいもで、今年もヘルシーなスイーツを作りました!さつまいもはビタミンCや食物繊維を多く含み、腸の状態を整えたり、生活習慣病予防にもよいといわれています。また紫いもにはアントシアニンが豊富に含まれ、活性酸素の除去に効果的といわれています。ニジヤのヘルシーなさつまいもスイーツを皆様でお楽しみください!