Auvil Cherry Update on June 29th
The harvesting cherries for the Domestic market starts today. The harvesting for the Japanese market is on schedule!
6月29日時点のオービルチェリー情報
本日からアメリカ国内向けのチェリーを収穫開始します。今のところ順調で日本向けも予定通りになりそうです!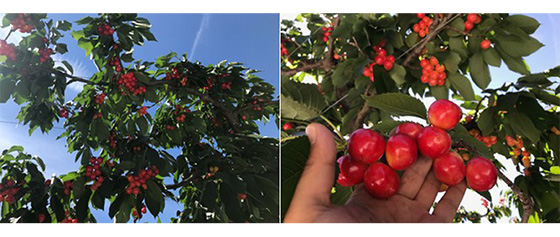 ---
Auvil Cherry Update on June 27th
Currently the weather is fairly stable in areas around Auvil Farm in Orondo, WA, and there is no rain in the forecast after this week.
The yield is reportedly better this year, and if the weather permits, the harvest will start on July 5th.
The cherries reserved for Japan are scheduled to be shipped out starting from July 14th through 20th.
It will, however, depend on the weather, and under certain circumstances the shipment may get delayed until after July 21st.
We are hoping the weather will stay good for the next couple of weeks, and we will report again whenever the situation changes.
6月27日時点のオービルチェリー情報
ワシントン州オロンドのオービル農園周辺の気候は概ね良好で、今週以降は雨の予報も無く、現時点では特に大きな不安要因はありません。
作柄は昨年より揃いが良く、やや豊作傾向にあります。天候がこのまま順調であれば収穫は7月5日頃から、日本向けのギフトは7月14日から20日頃の間に出荷できる予測です。しかし、今後の天候次第では一部7月21日着以降まで出荷がずれ込む可能性もあります。良いお天気が続くことを祈っています。