NIJIYA ORIGINAL SATSUMA-AGE (FISH CAKE)
NIJIYA ORIGINAL SATSUMA-AGE (FISH CAKE) is made with selected Alaskan Pollack paste. We never use MSG so that customers can feel natural taste of fish and other ingredients.
Please also watch our cute commercial below!!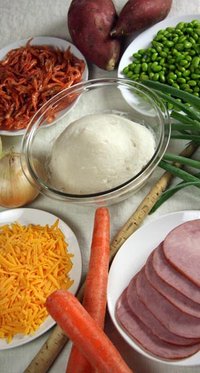 Vegetable:
This traditional fish cake is very nutritious – made with variety of vegetables-onions, carrots, burdock, and sweet potato. A hint of sweetness from sweet potato is enhancing the beautiful flavor.
Edamame:
Crashed and whole Edamame is kneaded with fish paste. Edamame is known as wholesome food because it is rich in Vitamin A and C that are not significant amount with Soybeans.
Ham & Cheese:
This "Pizza-like" fish cake is kid's favorite, and can be a healthy and nutritious snack for all generations. We use selected Nijiya Original Ham that is with No MSG.
Dried Shrimp & Green Onion:
Crashed superior dried shrimp is kneaded with fish paste and green onion. Please enjoy the harmonious aroma of shrimp and green onion and feel the Umami of seafood.
ニジヤ手作り さつま揚げ
ニジヤの手作りさつま揚げは、アラスカ産の高級スケソウダラのすり身を使用。NO MSGの優しい味わいです。
野菜天
定番の玉ねぎ、にんじん、ごぼう、そしてさつまいもの4種類の野菜がたっぷり入ったへルシーさつま揚げ。味の決め手はさつまいも。ほんのりとした甘みがお口の中に広がります。
えだまめ天
スケソウダラのすり身にたっぷりの枝豆を練りあわせた、まるごと枝豆天。枝豆は大豆にはほとんど含まれないビタミンAやCを多く含み、栄養価の高い食材です。
ハムチーズ天
ハムとチーズ。まるでピザのような組み合わせは、お子様も大好きなテイスト。おやつにもおつまみにもぴったりです。ハムはニジヤ特製のNO MSGハムを使用しています。
海老ねぎ天
大きな桜海老を半擂りにしてスケソウダラのすり身に練りこみました。海老の風味とねぎの香りがふわっ!海鮮の旨みたっぷりさつま揚げです。