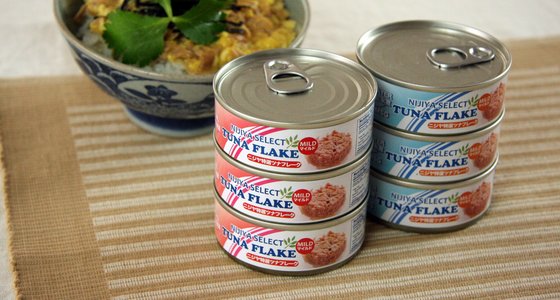 Nijiya Select Tuna Flakes
We are introducing new light style tuna cans. We use select skipjack tuna is lower in fat content, resulting in lower calories. Skipjack tuna is also a great source of EPA, DHA, taurine, Vitamin B, and Vitamin D.
It comes in two styles; in water and in oil. With safety our topmost concern, purified water is used for the "in water" and non-GMO soybean oil for the "in oil" version.
The skipjack tuna are sourced in the Pacific and Indian ocean and processed in a state-of-the-art facility in Indonesia. The facility is operated and managed by industry leading Japanese firms, so the production is under strict safety and quality control. Using high-tech production equipment and techniques, the products meet the always demanding standard of Japanese consumers.
Please try our Japanese style select tuna flakes at a price you don't find anywhere else.
ニジヤ セレクトツナ缶シリーズ
ニジヤブランドに新しい仲間が登場しました。
ニジヤセレクトツナ缶です。

本品はかつおを使用していますが、かつおはマグロと同じツナの仲間でスキップジャックツナと呼ばれています。
なぜかつおを選んだのかといえば、やはり脂肪分が少ないためカロリーが低いためです。
またEPAやDHAを多く含みビタミンB郡やビタミンDも豊富です。
日本でもかつおのツナ缶はマイルドやライトタイプとして販売されています。
日本人が経営するツナ缶の工場で、日本市場向けの規格で厳格な安全・品質基準を基に製造されております。
毎日使う食材だから安心・安全にこだわった日本風ニジヤセレクトツナ缶シリーズ。お買い得価格でご提供しています!
ぜひ一度お試しください。
商品のより具体的な説明はニジヤ全店にて配布しています「ごちそうマガジン春号」をご覧ください!